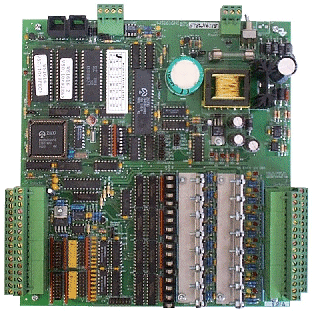 Description
The WS1616 is a high speed modular controller ideal for the control of major mechanical and electrical equipment. This SAC can be used as a fully functional single-panel system, or integrated into a large system as a supervisory controller with complete programming and diagnostic capabilities.
WS1616 is expandable to a maximum of 72 input/output points; enough for most high point density areas or complete single panel systems.
Full remote monitoring and control is facilitated by automatic alarm dial-out and manual operator dial-in capabilities.
Applications
high point density areas (up to 72 input or output points in various combinations)
mechanical/electrical equipment control
fully functional single-panel systems
remote monitoring & control applications
Features
Hardware
16 Universal inputs
16 Universal outputs
expandable to 72 I/O points
isolated switching power supply
standard onboard realtime clock
LED output status indicators
hand/off/auto output switches
Rx/Tx/diagnostic/power supply LEDs
SuperCap battery backup
watchdog timer
Software
menu-driven operator interface
multilevel password security
English language programming
global system access
system-wide programming
system-wide diagnostics
fixed-function (canned) programs