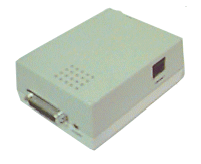 Description
Bridge-2000I connects the Walker Systems DDC system to the Internet. Any Connect-2000 workstation anywhere in the world that has Internet access has full control of the system.
Bridge-2000I is connected to either a WS1600 or WS1616 panel. It can have a permanent Internet connection and a dedicated IP address, or it can dial into a local Internet Service Provider (ISP) when required. The Bridge-2000I encapsulates the Walker Systems proprietary communication protocol within TCP/IP, allowing data transfer over the Internet.
The ability to connect to the system from workstations throughout the building, the organization, or the world brings tremendous flexibility to building management.
Features
Connects Walker Systems DDC system to the Internet permanently or as needed
Full Multitasking allows operators to perform different and unrelated functions at the same time
Provides low cost remote monitoring and control
Simplifies information management
Adds the power of Internet/Intranet/Extranet connectivity to your building
Easy to install and configure
Comes with all required cables and external power supply