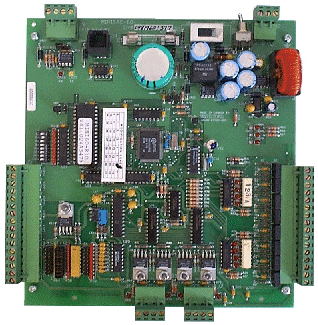 Description
The MiniSAC-60 is a full function mid-sized process controller. It is suited for those applications that are too large for the smaller MicroSACs, yet do not require the high point count and supervisory capabilities of the WS1616.
The MiniSAC has an onboard realtime clock for critical control applications. The 8 input and 12 output point count make this panel ideal for the control of mid-sized heating and cooling components, such as chillers, boilers and packaged air-conditioning units.
MiniSAC-60 is applicable to any job that is served by its point count and configuration.
Applications
medium point density areas (up to 8 inputs, 8 digital outputs and 4 Universal outputs)
packaged rooftop unit control
fixed-function unitary control
Features
Hardware
8 Universal inputs
8 digital Triac outputs & 4 Universal outputs
switching power supply
standard realtime IC clock
LED output status indicators
watchdog timer
12 bit A/D converter
communication LEDs
SuperCap battery backup
Software
menu-driven operator interface
multilevel password security
English language programming
global system access
fixed-function programs:

night cycle and purge
peak demand limiting
scheduled & optimum start/stop
enthalpy control